We recently looked at a list of good foods to eat for IBS, now let us see the 10 foods to avoid with IBS.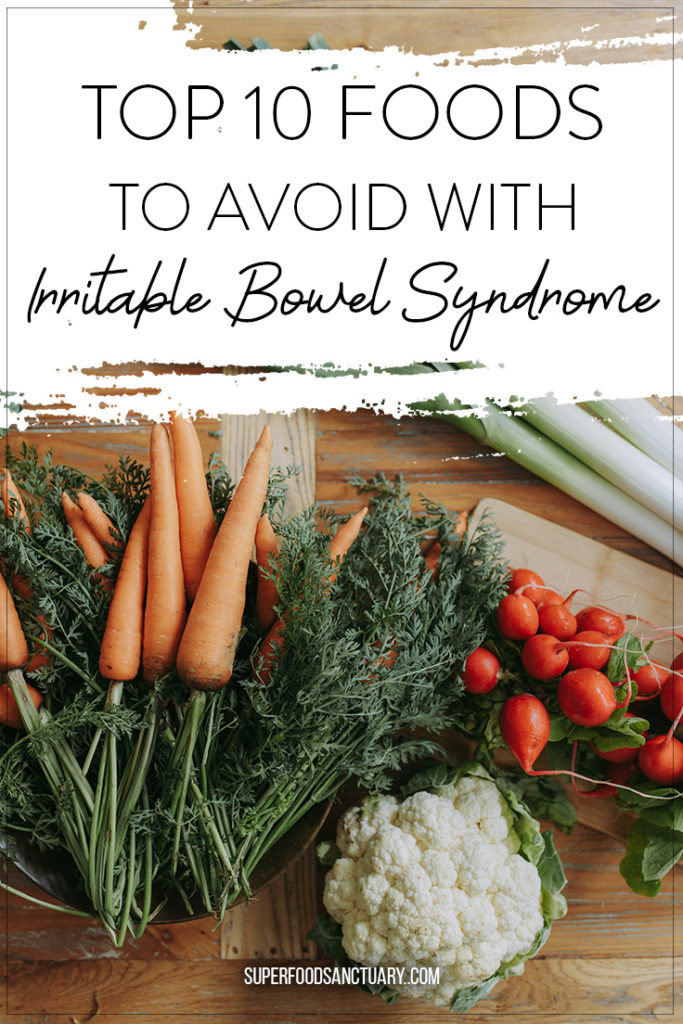 Top 10 Foods to Avoid with IBS (Irritable Bowel Syndrome)
1. Gluten
Foods with gluten are one of the worst foods to avoid with IBS. Gluten is found in grains such as barley, rye and wheat. It is a type of protein that some people are allergic to – the condition is called celiac disease.
People with this condition experience IBS symptoms when they consume gluten, especially diarrhea-predominant IBS. Celiac disease also causes changes in the intestinal cells which leads to poor absorption of nutrients. 
Many IBS sufferers also have gluten intolerance or celiac disease. Gluten-free diets of avoiding grains show dramatic improvement of IBS symptoms.
Try to avoid gluten as best as you can if you are suffering from IBS symptoms such as gas, bloating, diarrhea and stomach pain. Luckily, there are lots of gluten-free options available in the market today!
2. Dairy
Many people with IBS are lactose intolerant. Being lactose intolerant means a person's body does not produce large amounts of lactase, an intestinal enzyme that helps break down the sugar in milk.
Consuming foods containing lactose like dairy (milk, ice cream, cheese) can cause digestive troubles such as abdominal cramping, pain, diarrhea, gas and bloating.
You may swap cow milk for oat milk or almond milk. Oat milk has a creamier and richer taste than almond milk!
3. Legumes such as Beans
Legumes such as beans, peas, peanuts, chickpeas and lentils are among the list of foods to avoid with IBS. This is because these foods cause gas, bloating and stomach pain when you suffer from IBS.
4. Caffeinated Drinks
Caffeine is a no-no when you have IBS diarrhea. When you consume caffeinated drinks like coffee, sodas, black tea and others in high amounts, it can cause diarrhea. Also try avoiding over-the-counter pain killers that contain caffeine in them.
5. Alcohol
Alcohol is best avoided completely when you suffer from IBS. Not only does it contain gluten but also sugar & artificial sweeteners that are hard to digest by the body when you have IBS. Alcohol also causes inflammation in the body which aggravates IBS symptoms. It also makes you very dehydrated which affects your digestion badly.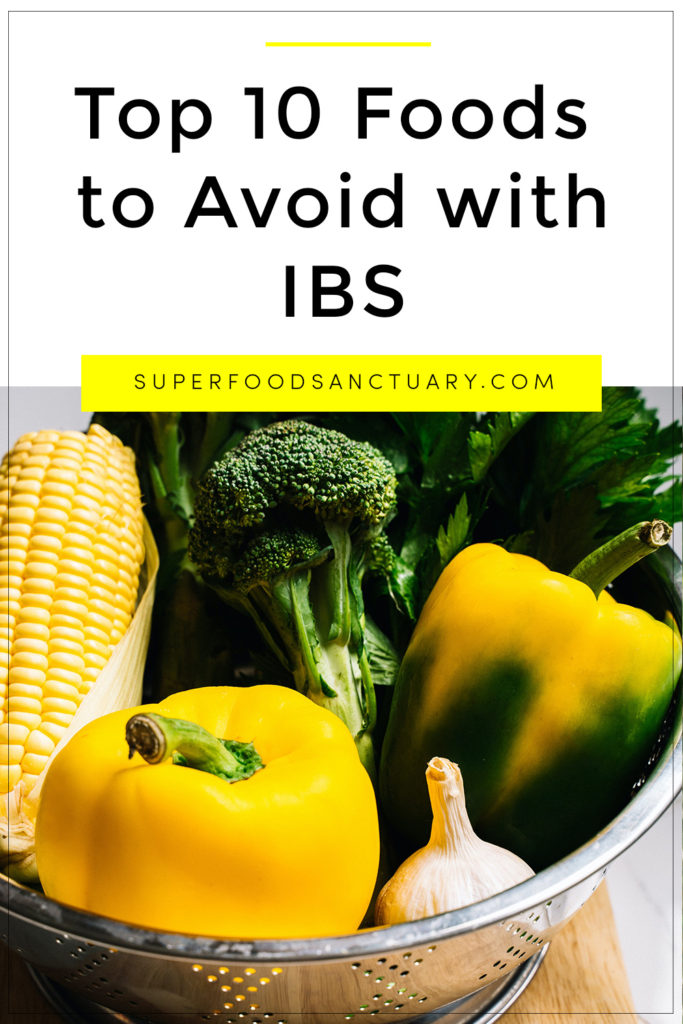 6. Cruciferous Vegetables
Cruciferous veggies such as broccoli, cauliflower, cabbage and others contain sulfur that aggravates IBS symptoms like gas and cramps.
These vegetables even cause gas, bloating and constipation/diarrhea for people who do not have IBS. When the intestines break down these foods it causes gas and constipation in many people. 
Avoid eating raw cruciferous vegetables and try to limit consumption of cooked versions of these vegetables when you have IBS.
7. Garlic & Onions
Beware of eating garlic and onions, especially in their raw form. This is because these two foods are rich in Sulphur that cause gas and cramping since it is difficult for the intestines to break down.
Avoid eating raw onion in salads and limit garlic laden dishes as best as you can to avoid tummy troubles.
8. Processed Foods
Processed foods contain artificial sweeteners and preservatives that do not sit well with the digestive system when you suffer from IBS.
The hidden artificial ingredients in processed foods are hard to digest and can cause inflammations, stomach reactions and trigger IBS symptoms. 
Try to eat home-cooked meals and fresh foods to avoid pre-packaged processed foods whenever you can.
9. Sugar-Free Sweeteners
Many people have started using sugar-free sweeteners to avoid white sugar. However, sugar-free is not the healthiest option for people with IBS.
Sugar-free sweeteners contain ingredients like aspartame & sucralose and theyare found in chewing gum, diet sodas, and sugar-free candy. When consumed, the body has a hard time absorbing these nutrients especially for IBS sufferers.
Instead of these sugar free sweeteners, use natural sweeteners such as raw honey, maple syrup and agave nectar instead.
10. Insoluble Fiber
Much as fiber is good for promoting bowel movements, it can be a hazard when it comes to IBS. Not all fiber is bad but avoid insoluble fiber such as that found on skins of fruits. Insoluble fiber can worsen diarrhea, bloating and cramps for those with IBS diarrhea.
Peel fruits before consuming them and do not consume large quantities of raw fruits and veggies to avoid insoluble fiber.
Also Read: